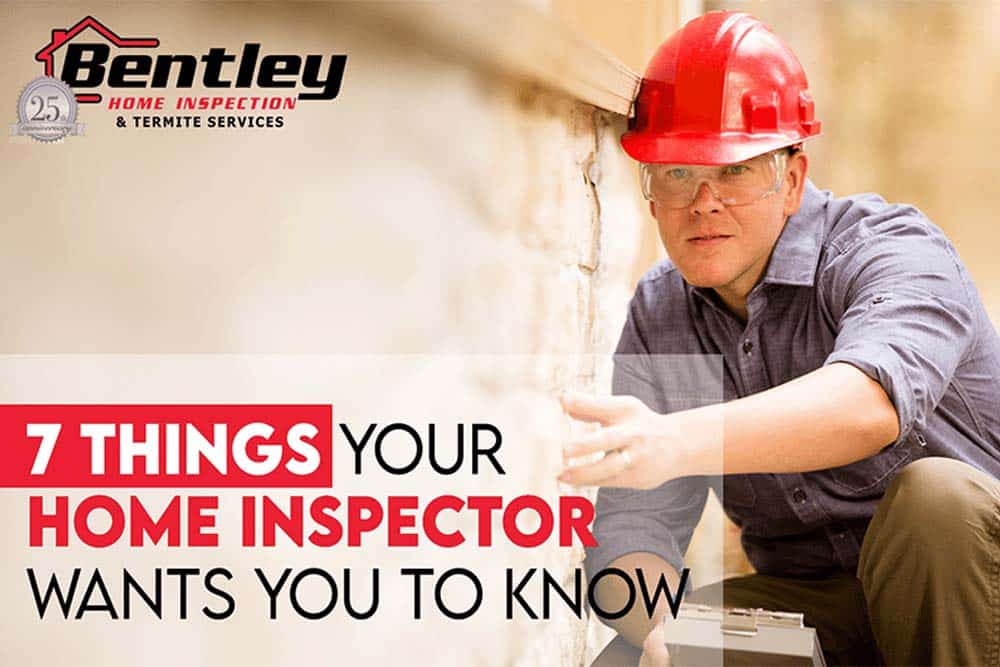 Buying a home isn't easy and can be pretty daunting. It is important to ensure that you find the right home for you and that it is structurally sound. Home Inspectors are experts who can help ensure that your purchase meets your expectations. This article will share some misconceptions about home inspectors and seven things your inspector wants you to know before you even sign on the dotted line.
Understanding the role of a home inspector.
As a homebuyer, it is essential to understand the home inspector's role. A home inspector company in Knoxville provides inspection services for property owners through trained professionals. The job of these inspectors is to evaluate the property thoroughly. The scope of a home inspection includes all visible and accessible areas of the home. The inspector will look for any defects or problems that could affect the value or safety of the home. The inspector will also take note of any maintenance issues that should be addressed.
The home inspector cannot make any repairs to the home. The inspector also cannot provide an estimate of repair costs. The inspector's job is to identify any issues the homeowner or potential buyer should know about. It is important to have realistic expectations when hiring a home inspector. The inspector is not responsible for finding every single problem with the home. The inspection also does not guarantee that the home will not have any future problems.
The goal of the inspection is to give you a better idea of the home's condition so that you can make a sound decision about whether or not to purchase it. If you are considering hiring a home inspector, ask for references and check out their website. You should also ask what type of report you will receive after the inspection is complete. A good quality report will include photos and detailed descriptions of any defects or problems that were found.
1. The inspector is not a contractor.
As a home inspector, it is not my job to make repairs to the home. I am there to identify potential problems and report them to you, the homeowner. You can then see if you want to hire a contractor to make the repairs or take care of them yourself.
2. What are the most common things to look for when inspecting a house?
When inspecting a house, the most common things to look for are the condition of the structure, the condition of the systems, and the condition of the finishes. The condition of the structure includes the foundation, framing, and roof. The condition of the systems includes the electrical, plumbing, heating, cooling, and ventilation systems. The condition of the finishes includes painting, flooring, cabinets, countertops, and appliances.
3. How should I communicate with the inspector?
Your home inspectors in Knoxville, TN, are there to help you understand the condition of your home and identify any potential problems. Inspectors are not there to tell you how to fix things or what to do next. Following are some tips that will help you in communicating with your inspector:
-Be respectful of the inspector's time and limit questions to the inspection report.
-If you have questions about the report, ask for clarification but don't ask the inspector for their opinion on repairs or what should be done next.
-Inspectors are not required to provide cost estimates for repairs but may be able to provide general information about repair options.
-Keep in mind that inspectors are not experts in every area of home maintenance and cannot always provide detailed information about every aspect of your home.
4. How long will the inspection take?
The average home inspection will take between two and three hours. However, the time it takes can vary depending on the size of the home, its age, and any unique features it may have. If any issues need to be addressed, the inspector may need more time to thoroughly assess the situation.
5. What can my inspector and I do to avoid surprises?
Your home inspector is there to help you avoid surprises when purchasing a home. Here are some things you can do to help:
-Be present during the inspection. This way, you can ask questions and get clarification on anything that comes up.
-Share any concerns you have with the inspector beforehand. This way, they can keep an eye out for anything that might be a cause for worry.
-Get an inspection contingency in your purchase contract. This will give you the option to back out of the deal if significant problems are found during the inspection.
6. Can an inspector identify structural problems?
Yes, a home inspector can identify structural problems with your home. However, they cannot provide you with an estimate of the cost of repairing those problems. That is something you will need to discuss with a licensed contractor.
7. My home is ready to close; what are some final items an inspector can help me
As you prepare to close on your home, there are a few final items that an inspector can help you with. An inspector can:
-check for any outstanding repairs that need to be made
-make sure all systems in the home are functioning properly
-inspect the home one last time to ensure everything is in order
An inspector can help give you peace of mind as you close on your home by making sure everything is in order. They will check for outstanding repairs and ensure all systems are functioning properly. This way, you can be confident that your new home is in good condition and ready to move in.
Bentley Home Inspection Knoxville is committed to business and inspection ethics, an education-centric approach, and advocating for our clients. We exceed industry standards by providing a comprehensive inspection report with pictures, maintenance recommendations, and a homebuyer's guide. Our goal is to educate our clients on the condition of their homes so they can make informed decisions.
We pride ourselves on providing reliable home inspection services. Our mission is to provide home buyers, home sellers, and the real estate community with a thorough, reliable, and consistent home inspection that meets or exceeds their expectations. We understand that buying a home is a major investment, and we want to help you ensure that your investment is sound. That's why we offer a comprehensive home inspection that covers all the major systems and components of the home. We also offer a variety of other services, such as radon testing and water testing, to ensure that your new home is safe and healthy for you and your family. If you're looking for a reliable home inspector in Knoxville, TN, look no further than Bentley & Associates. Contact us today to book an inspection.