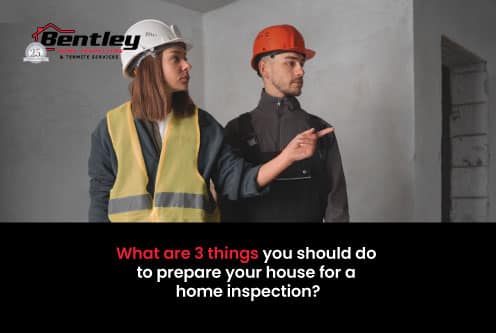 With a home inspection on the horizon, there are specific steps that you should take to ensure it goes as smoothly as possible. In this article, we'll look at the essential steps to help you prepare your home for a home inspection and ensure everything is in perfect condition for your big day. So read on to learn more about how to prepare for the best home inspectors in Knoxville, TN. Most of us know that a home inspection is an objective examination of a home's physical structure and systems, from the roof to the foundation. Home inspectors typically spend two to three hours inspecting a home and then provide a written report to the buyer or seller with their findings. It is the homeowner's responsibility to ensure that the stage for inspection is set before the home inspector arrives. This ensures a win-win situation for the inspector and the homeowner both; the inspector performs the inspection with efficiency and ease, whereas the homeowner gets the maximum output from the inspector. So let's look at some steps homeowners should follow to ensure a seamless inspection of their homes.
Step 1: Cleaning and Decluttering
If you're preparing your home for a home inspection, the first obvious step is to clean and declutter. This includes dusting, vacuuming, and cleaning up clutter. Decluttering is especially important if you have any personal items in the open. Inspectors will be looking for any potential safety hazards, so it's important to make sure your home is clean and free of clutter so they can perform the inspection with ease. You want an inspector's attention to be kept from being diverted because of unnecessary roadblocks in the way of his inspection.
Step 2: Resolve any Known Issues
If you know of any issues with your home that could be flagged during a home inspection, it's best to address them before the inspection takes place. This will show the inspector that you're proactive about maintaining your home, and it could potentially help you avoid a costly repair down the road. Some common DIY fixing issues to look for include: 
Leaking faucets that are a minor fix and can make your inspection report look bad.

Burnt-out bulbs that may waste an inspector's time.

Unkempt shrubs that may get in the way of inspection

Misplaced keys to doors the inspector may want access to.

Excess storage in the garage or attic that may hinder the inspection process.

Replacing smoke detector batteries.

Replacing HVAC filters if the need be.

Keeping warranties and handy documents available for the inspector if he needs them.
If you need help with an issue, feel free to reach out to a professional. A little bit of money spent now could save you a lot of headaches (and money) down the road.
Step 3: Prepare the House for the Inspector's Arrival
Now that you have the inspector's scheduled arrival time, it's time to prepare your home for the inspection. This includes making sure the house is clean and tidy, as well as taking care of any necessary repairs. Start by cleaning your home thoroughly and paying special attention to areas that may be overlooked, such as ceiling fans and light fixtures. Dust and cobwebs can accumulate quickly and will be noticed by the inspector; although they are not listed on an inspection report, they may give the impression of a home that's been neglected. 
Next, take care of any necessary repairs, no matter how small. Even something as simple as a loose doorknob can be noted in the inspection report. If you're not sure how to make the repair yourself, hire a professional to take care of it for you.
Finally, clear away any clutter from the rooms that will be inspected. This includes putting away personal items, such as family photos and knick-knacks. Not only will this help the inspector move around more easily, but it will also give them a better sense of the space overall.
Final Tips for Preparing Your Home for an Inspection
Schedule your home inspection as early in the buying process as possible. This will give you more time to make necessary repairs before closing the home.

Make sure all utilities are turned on for the inspector. This includes water, electricity, and gas.

If you have a pet, make arrangements for them to be out of the house during the inspection. The inspector will need to be able to access all areas of the home, including attics and crawl spaces.

Take some time to declutter each room in your home. This will help the inspector get a clear idea of the condition of your home and make it easier to spot any potential problems.

Be sure to clear any vehicles or other obstacles from the driveway and yard so that the inspector can easily access the exterior of your home.

Lastly, try to be available during the inspection in case the inspector has any questions for you about your home.
Taking the essential steps to prepare your home for an inspection in Knoxville, TN, is key to ensuring you get the best possible outcome. Following these simple yet effective steps can help ensure that your home looks its best and stands out from the competition. From tidying up and decluttering to repairing any minor damage, there are many ways to ensure your house passes with flying colors. With proper preparation, you'll be well on your way toward a positive outcome!